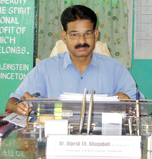 Every academic session brings to us a group of new faces with full of hopes and aspirations. It is my privilege to welcome you all to this epicentre of higher education in a vast rural area like Sualkuchi in Assam. I must express my deep sense of gratitude to the esteemed parents and guardians for their confidence reposed on us by exercising their option to make this college a destination for moulding the future of their wards. It is a great pleasure for me to let you know something new that have been added to infrastructure and curriculum fronts of the college. The making of a virtual classroom operational in the institution is at the verge of completion. Simultaneously, digitization of the central library is under process, which will open the door for our teachers, students and employees onto the unlimited sources of knowledge and information. In addition to our ongoing undergraduate programs of Arts, Science and Computer Science, job-oriented and vocational programs are some new ones to add on the curriculum front of this institution. Diploma program in Computer Hardware Maintenance & Networking under the scheme of Community College (CC) of UGC has already taken off and two more programs, viz, Computer Graphics & Animation and Fashion Technology under the scheme of B.Voc. (Bachelor of Vocational Education) of UGC are going to enrich our list of programs that the institution is going to offer to the students. These are the rare opportunities that this college has endeavoured to make available to the youths of this area. It needs no mention that none of the neighbouring institutions is equipped with such job-oriented programs, so far. More students, as I hope, will come forward to reap the benefit of the new additions to our programs.
Our commitment to the growing generations does not end here. Programs on personality development, development of soft-skills, communication skill, program on value education, organisation of seminars on burning issues of public life, organisation of sports and other non-scholastic events, quarterly publication of College News Letter, publication of two research journals (annually) with ISSN, departmental excursions, social service in the adopted village and organisation of voluntary blood donation camp under the auspices of NSS unit of the college, programs of NCC, etc., are some of our reflection of vibrancy of the campus life. We are offering platforms to our esteemed guardians and alumni at different points of time on regular basis to place their observations and suggestions so as to get feedback in regard to our endeavour and to harvest more inputs in order to further the excellence of this rural institution of higher education.
It needs no mention that we have left no stone unturned to improve this institution not for its own glamour, but for the brighter future of our young minds. We are guided by the spirit of 'Miles to go...' versed by the great poet Robert Frost. Whatever we have been able to achieve thus so far, is because of our funding sources like UGC, Govt. of Assam, and constructive leadership of the Governing Body of the institution. It is worthwhile to mention that we have a dedicated contingent of teachers and sincere non-teaching staff. I hope, their selfless service will lead this institution to its new heights in the days to come.
Regards,
Dr. Dipesh Chandra Bhagabati
---
Profile of the Principal
Dr. Dipesh Chandra Bhagabati
Principal, S.B.M.S.College, Sualkuchi, Assam, India
Educational Qualifications
BA (Hons in Education, GU)
MA (in Education, GU)
M.Phil. (in Folklore, GU)
Ph.D. (in Education, GU)
Experience
Lecturer in Education in Tihu College, Tihu (Assam) from 29/8/1986
Associate Prof. In Education in Tihu College, from 01/01/2006.
Visiting Teacher in Bajali Teachers' Training College, Patacharkuchi (Assam) from 1992 to 2004.
Do in College of Teachers Education , Tihu from 1994 to 1996.
Do in Kampith College, Kaithalkuchi, 1986-87.
Head of the Dept of Education, 2007-2011
Principal, S.B.M.S.College, Sualkuchi, Assam from 18-01-2012
Research Experience
M.Phil. from Gauhati University in 1990 in Folklore Research Dept.
Ph.D. from Gauhati University in 2007 in Education (Vocational Education)
Research Guideship of VM University in 2007 (M.Phil)
Research Guideship for Ph. D. Of Gauhati University in 2012.
No. Scholars registered for Ph. D. : 7
Name of the Research Scholars: Mr. Ratul Das, Ms. Manisha Kshetrapal, Ms. Rupama Chetia, Ms. Pranami Bhuyan, Mr. Pranjit Patowary, Ms. Chayanika Deka and Mrs. Bijuli Deka
Project Completed
Vocationalization of Higher Secondary Education: A Study in some selected Districts of Assam, Funded by UGC, 2011.
Academic Associationship
1. Life Member: North East India Council for Social Science Research, Shillong
2. Member: Assam Science Society, Guwahati
3. Member (Former): Committee of Courses and Studies for Folklore Research , Gauhati University
4. Member (Former): Committee of Courses and Studies for Education, (UG), Gauhati University
5. Member: Departmental Research Committee of Education, GU.
List of Presented Papers
| | | | | | |
| --- | --- | --- | --- | --- | --- |
| Sl. No. | Title of the Paper Presented | Seminar/Conference Theme | Organiser | Status | Year |
| 1 | The Out-of-school tribal population and Their Development | Impact of Education on Socio-economic Development of Tribal people of Assam etc. | Dept. of Education, Dudhnai College, Assam | National | 1998 |
| 2 | Population Problem and the tribal Illiterates | Education for Tribal Development with Special Reference to North-east India | Dept. of Education, Barama College, Assam. | National | 2000 |
| 3 | Eradication of Illiteracy and Allied Problems in Tribal Society | Status and Experiment of Basic Education in North- East India | OKD Institute of Social Change and Development, Guwahati | National | 2000 |
| 4 | Technical education and Economic Growth | 10th North east India Education Society Annual Conference | Pragjyotish College, Guwahati | National | 2000 |
| 5 | Mainstreaming the Youngsters: The issues in Assam | Research priorities on women and Children in North-east India | OKD Institute of Social Change And Development, Guwahati | National | 2002 |
| 6 | Making 'Education' more Relevant | Problems and Prospects of Higher Education in Rural India with special reference to Assam | Extension Education Centre, B.P.Chaliha College, Nagarbera | National | 2003 |
| 7 | Parental Education and Family Size: A study in a multi-ethnic village in Assam | Rural Development in North east India: Problems and Prospects | Tihu College, Tihu, Assam | National | 2002 |
| 8 | Literacy among Women in the North-east | Women in the North-East: Challenges and Opportunities in the 21st Century | WSRC, GU | National | 2002 |
| 9 | Scheduled Caste and Scheduled Tribe women in Vocational education: a case study in three Districts of Assam | Rural Development through Women's Empowerment w.s.r. to the North -east | B.H.College, Howly, Assam | National | 2006 |
| 10 | Vocationalization of Higher Education in Assam: Some Basic Issues | Curricular Reforms in Higher Education with Special reference to Assam | Extension Education Centre, B.P.Chaliha College, Nagarbera | National | 2008 |
| 11 | Folklore and development Communication in ethnic Society | Ethnicity and Folklore | Dept. of History, Chhaygaon College, Assam | National | 2008 |
| 12 | State response to Violence in North East India with special reference to the Surrender Issue in Assam | Extremism in North East India | NEICSSR, Shillong | National | 2009 |
| 13 | Primary Education for Every Child in Arunachal Pradesh | Development of Tribal People in Arunachal Pradesh | Dept. of Economics, D.N.College, Itanagar, Ar. P. | National | 2009 |
| 14 | Achieving MDG on Education for Assam: The Task Ahead | Millennium Development Goals on Education: the task ahead of India with special reference to its North-east region. | Dept of Education Tihu College, Tihu | National | 2011 |
List of Published Papers/Articles
| | | | | |
| --- | --- | --- | --- | --- |
| Sl. No. | Title with Page Number | Journal/Book | ISSN/ISBN | Publisher |
| 1 | Education of the Tribal Women in Assam: Status, Problems and Hope. Pp 49-52 | Journal of NEICSSR, Vol:25 No. 1 | ISSN 0970-7913 | NEICSSR, Shillong |
| 2 | Entrepreneurship education: The expanding Horizon for Polytechnic Graduates in Assam. Pp 16-18 | University News, Vol: 44 No. 41 | ISSN 0566-2257 | Assn. Of Indian Universities, New Delhi |
| 3 | Vocational education among Scheduled castes and Scheduled Tribes in ITIs of Assam. Pp 167-170 | Summary of Doctoral Theses, Vol: 3 | ISBN 978-81-920635 | ACTA, Guwahati. |
| 4 | Literacy in Assam- Dealing with the Needy Groups. Pp309-316 | Education in North East India | ISBN | Concept Publishing Co, New Delhi |
| 5 | Intermediate education in Colleges: An analysis. Pp83-87 | Quality Issues In Undergraduate education | ISBN | Tihu College, Tihu |
| 6 | Education for Every Child in Arunachal Pradesh with special reference to the Tribal Children in the Light of Dakar Framework of Education for All. Pp 248-54 | Development of tribal People of North-east India | ISBN 93-5125-008-3 | Concept Publishing Co, New Delhi |
| 7 | Technical Education in Assam with special reference to Engineering programme. Pp 219-234 | Education in North East India | ISBN 978-8186307-85-4 | DVS Publishers, Guwahati |
| 8 | App of Application of Computer in Professional Life By Teachers in Higher Education: A Study in a Quasi-Urban College in Assam, India. Pp 196-203 | Tihu College Research Journal Vol. II No.2. | ISSN 2248-9657 | RCEE Cell, Tihu College, Assam |
| 9 | Assam in the Light of Millennium Development Goals (MDG) of Education. Pp 35-40 | Journal of NEICCSR, Vol.35, No.2 | ISSN 0970-7913 | NEICSSR, Shillong |
List of Books Authored/Edited (Jointly)
Sl. No.
Book
Publishing Year
Publisher
ISSN/ISBN
1
Siksha-Monovigyan
2002
K.K.Publications, Guwahati
ISBN 978-93-81691-03-8
2
Sikshar Tatva aru Niti Samuh
2002
K.K.Publications, Guwahati
ISBN 978-9381691-05-02
3
Bharator Sikhar Vikakash
2013
K.K.Publications, Guwahati
ISBN 978-93-81691-07-6
4
Undergraduate Education in the North-East
2005
Contact Address
SBMS College, Sualkuchi, Kamrup (Assam), Pin: 781103. Phone: 0361-2830030, Email: dcbhagabati@gmail.com
---
Past Principals of the College that Glorify Us Since 1963

Name: Late Dr. TC Rastogi
Designation: Principal (1963-1969)

Name: Late Hiron Chandra Baishya
Designation: Principal (1969-1988)

Name: Harekrishna Sarma
Designation: Principal (1988-1995)

Name: Prakash Chandra Medhi
Designation: Principal In-charge (1995-1996)

Name: Dr. Prabin Baishya
Designation: Principal (1996-1997)

Name: Late Ranjit Choudhury
Designation: Principal In-charge (1997-1998)

Name: Dr. Rajani Kanta Das
Designation: Principal (1998-2004)

Name: Late Bharat Ch. Dev Sharma
Designation: Principal In-charge (21-05-2004 to 19-09-2004)

Name: Dr. Bilash Ch. Das
Designation: Principal (2004-2010)

Name: Late Tua Kataki
Designation: Principal In-charge (01-01-2011 to 18-01-2012)